1930s Wedding Car Hire

Cheadle, Stockport, Manchester and Cheshire
Cheadle Vintage Cars offer luxury1930s wedding car hire so you can arrive at your wedding day in style. Make your big entrance in one of our traditional vintage wedding cars.

Welcome to Cheadle Vintage Cars, we are winners of the Best Wedding Supplier in the Northwest, we have won this award for 8 years running and it is thanks to the team behind the company that this award has been won so many times.

When you need a classic or modern vehicle for your wedding then call Horgans, it's what's behind our service which keeps us in front.
Choosing Horgans means that you can travel in the superior luxury of a bygone era, we have many classic and vintage style cars available to suit everyone's tastes and style.

Whatever type of car you might be looking for, we can supply it, we have unrivalled reputation for the presentation of our pristine 1930s style wedding vehicles and have a huge array for you choose from.
Traditional Wedding Car Hire

When you choose us to transport you through time to your wedding, you will receive a personal chauffeur with our wedding car who will be dressed to impress in a 1930's style uniform which will add even more to the spectacle when you step out of the car and into your future.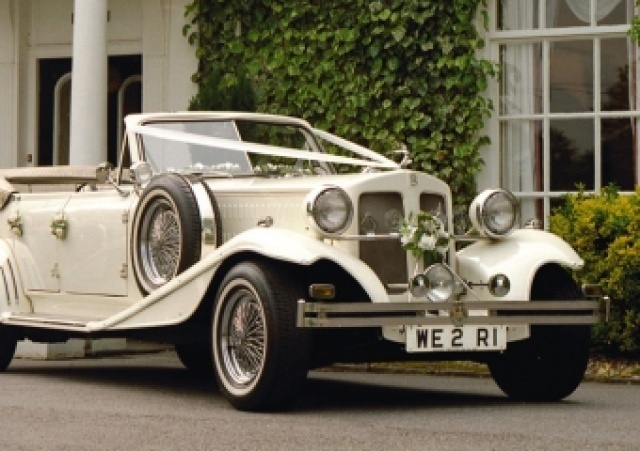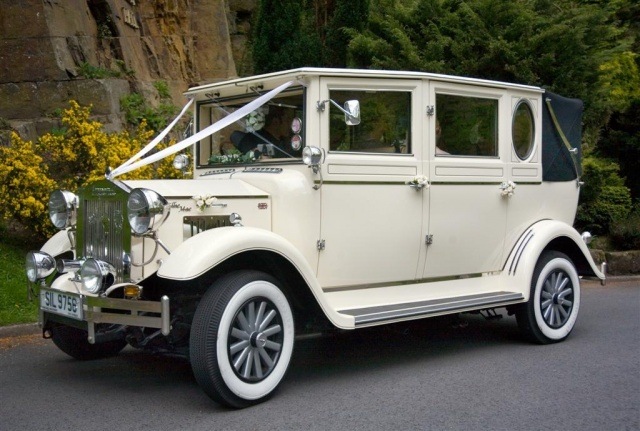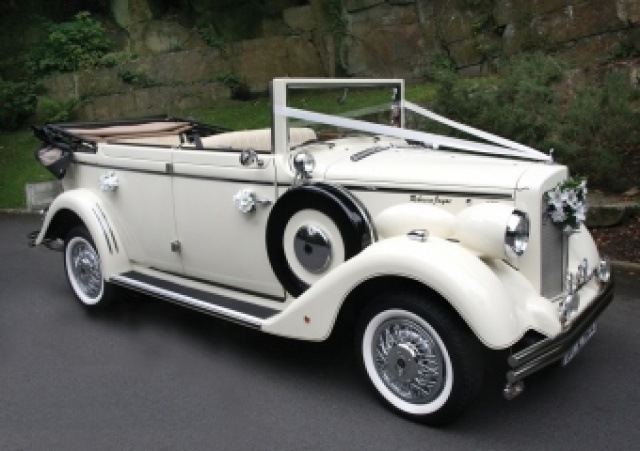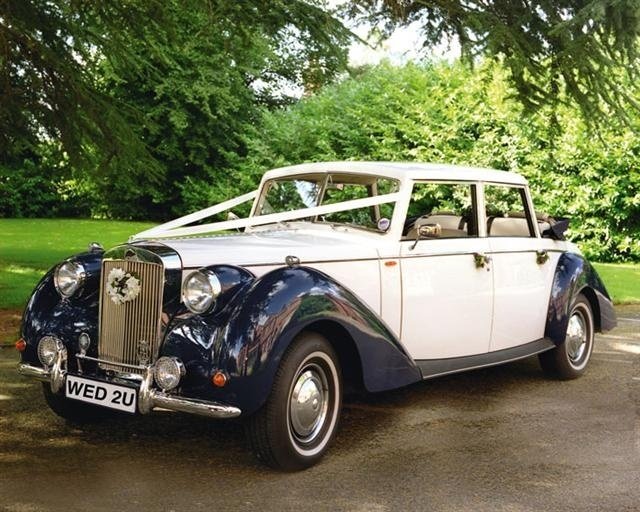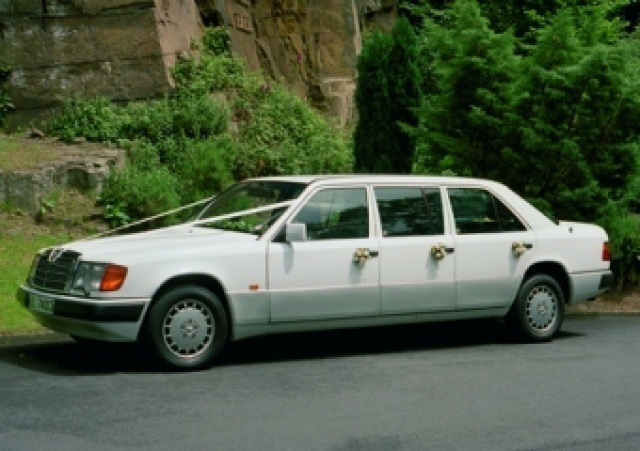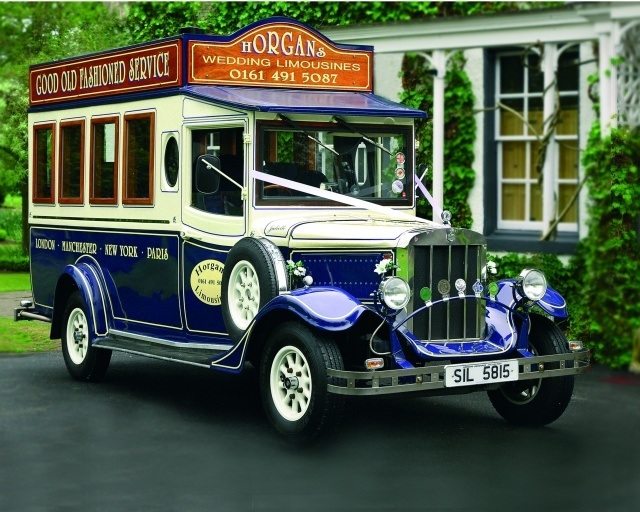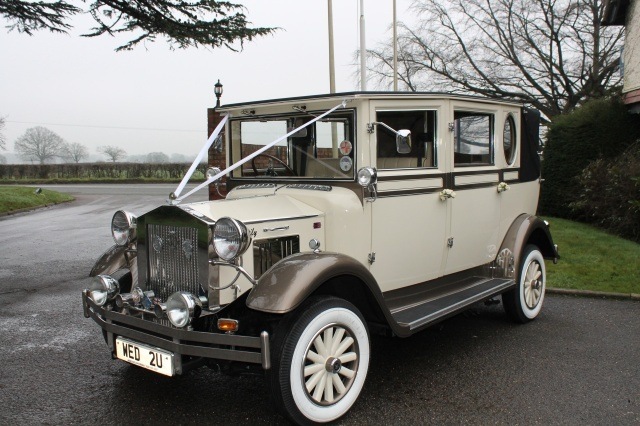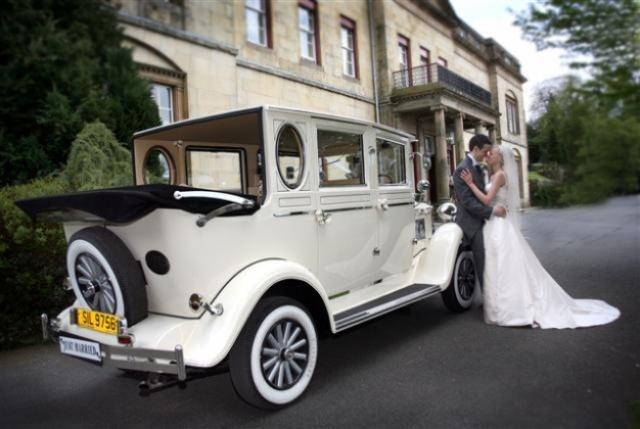 Here at Cheadle Vintage Cars, we have some popular and amazing cars for you to choose from for your big day. Most of the wedding cars we provide have been on TV, and have won awards, which is why we are the best company to choose around the Cheshire, Cheadle, Stockport, and Greater Manchester areas.
Not only will you get a stunning car to take you to your destination, but you will also be driven by one of our smart and professional chauffeurs. Here is a list of our beautiful wedding cars to choose from. If you would like to find out more information about any of our vehicles, then please give us a call today.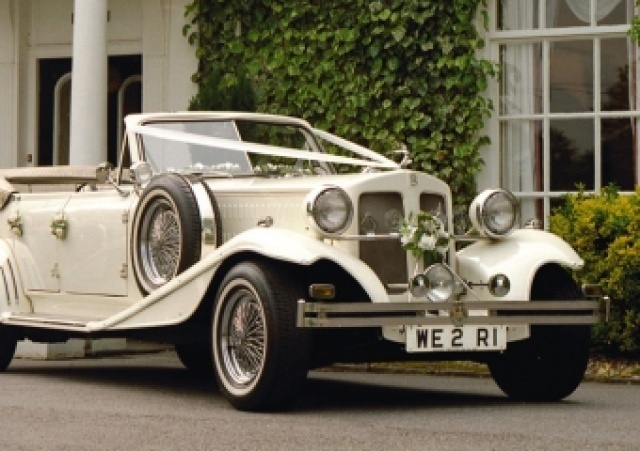 This stunning four-seater car has some amazing 1930's-style characteristics when an open-top, which is great for warm and sunny wedding days. Although, the roof can go on, which means you can still hire our Beauford Tourer on windy and rainy days.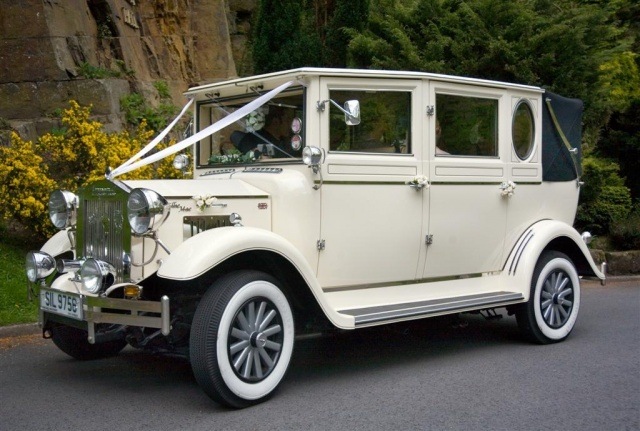 Our seven-seater Imperial Landaulette is a stunning and traditional cream colour and is perfect if you have a larger bridal party. This vehicle provides a large amount of space, which, furthermore provides extra comfort. It is also great for any weather conditions, as it is partially convertible.
We also have a cream and coffee coloured seven-seater Imperial Laundaulette, which, again, has lots of room and provides comfort for your wedding guests. This vehicle has 1930's characteristics, and is ideal for larger wedding dresses!p>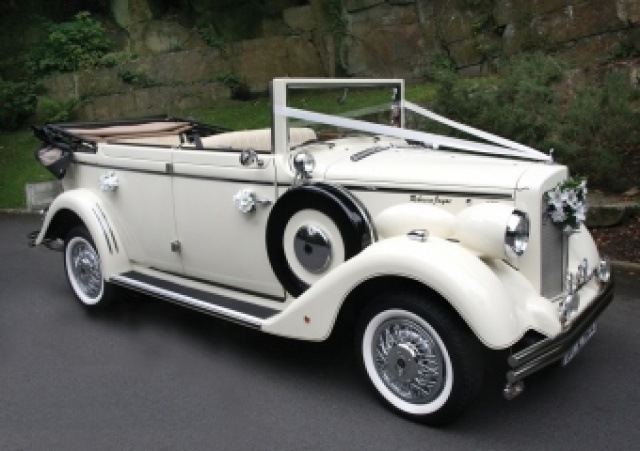 The Regent Tourer is a sex-seater vehicle, with four doors and an open-top, which can be closed, depending on the weather conditions. To match the 1930's characteristics on the car, our professional chauffeur will also be dressed in the 1930s inspired clothing.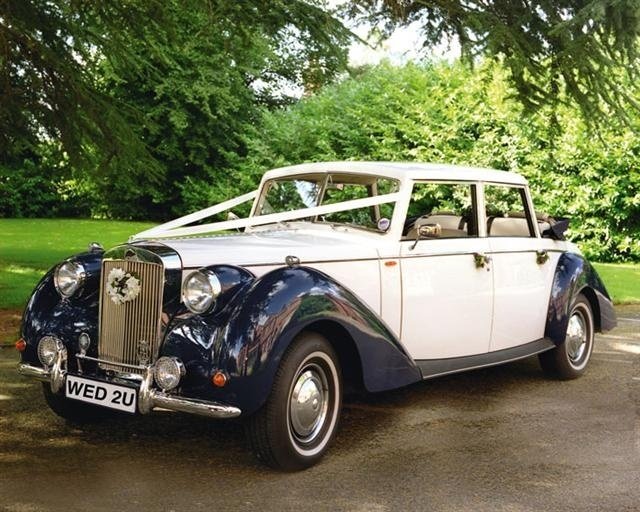 This vehicle is another 1930's style vehicle, with a long body, four seats, and it's also partially convertible. This car has been shown on the TV, and you'll definitely feel like royalty on your big day!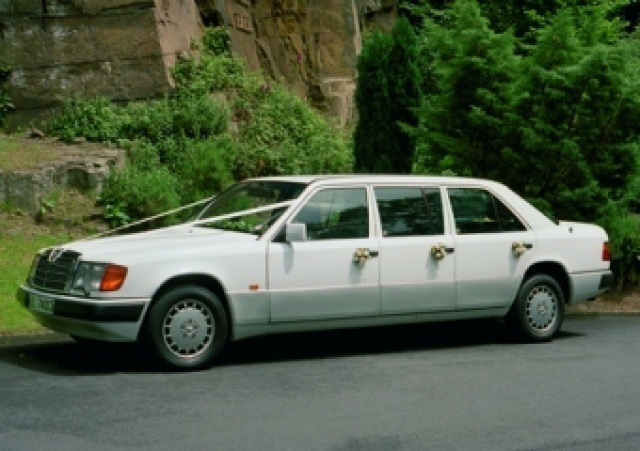 Our Mercedes is well known for its amazing comfort and space, being a seven-seater vehicle. Our Mercedes is white and is a factory-built mid-stretch, which is perfect for a larger bridal or groom party. This vehicle is affordable, luxurious and also has air conditioning to keep your cool.
We also have the modern four-seater S-Class Mercedes available in white, if you are looking for a less traditional wedding, but still, desire the luxury.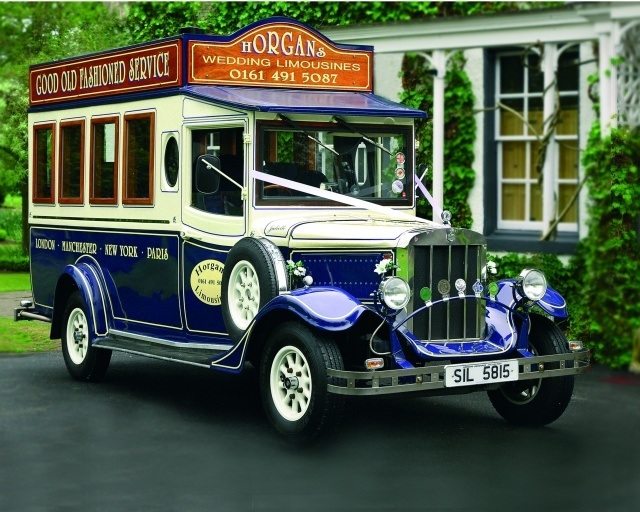 The Asquith Charabanc Omnibus can accommodate up to seven passengers and is a stunning wood-panelled vehicle with blue velour upholstery. This vehicle is perfect for your wedding party members and guests to arrive at your wedding in.
Rolls Royce Phantoms are extremely luxurious cars and a modern version of the old-style luxury vehicles. We have this four-seater vehicle available in either white or silver, and it really is a car that will turn heads on your wedding day!
We also have a four-seater Bentley Flying Spur in white or silver available. Please contact us if you require
All of our chauffeurs are very friendly and happy to help in any way they can; they are also very reliable and will ensure that they get you to the church on time.
About our Vintage Wedding Car Hire
Here at Horgans Wedding Cars Ltd, we have years of experience in the wedding car hire industry and are a professional family-run business. We have a wide range of luxury cars for you to choose from.

We want your big day to be as special as possible, which is why, as well as the stunning car, we provide a professional and smart chauffeur who will drive you and your wedding party to the destination. We don't charge any extra money for time, which is usually up to four hours, or mileage. We also provide some amazing wedding day packages; to find out more about these, please give us a call today.

Here is a list of the areas we cover. If you are looking for a destination that isn't on the list, please give us a call, and we'll be more than happy to discuss your requirements.
Manchester
Bury
Crewe

Altrincham
Alderley Edge
Ashton Under Lyne
Bowdon
Bollington
Boothstown
Bramhall
Cheadle
Cheadle Hulme
Chorlton
Congleton
Didsbury
Disley
Dunham
Eccles
Ellesmere Port
Flixton
Frodsham
Gatley
Hale
Halebarns
Hazle Grove
Holmes Chapel
Hulme
Irlam
Knutsford
Macclesfield
Marple
Middlewich
Mobberley
Mottram
Nantwich
Northwich
Northenden
Oldham
Partington
Poynton
Prestbury
Runcorn
Sale
Salford
Sandbach
Stretford
Stockport
Swinton
Tameside
Tarporley
Timperley
Trafford
Trafford Park
Urmston
Walkden
Warburton
West Didsbury
Whalley Range
Warrington
Wilmslow
Withington
Worsley
Wythenshawe
What our Customers Say
We always aim to keep our customers happy and ensure we make their wedding day as special and memorable as possible. Remember, it is important to book your wedding car hire as early as possible to ensure you get your dream date and your dream wedding!

Here are a few of the fantastic reviews we've had from our customers over the years:

"We received terrific value for money and want to say an enormous thank you for the effort put in by your chauffeurs. We will definitely be recommending you!"
— Sammy and Darren Kelly
"The cars and guys made the day run so smoothly. I just want to say thanks to all the guys at Horgans; you really did a great job!"
— Michaelsimms286
"Just wanted to say thank you for your wonderful service, and a special thanks to our two drivers who helped make our day so special."
— Angela and David Shilvok
"Out of all the providers we used for our wedding, Horgans were by no doubt the best! They invite you to sit in the cars, whilst they explain every aspect of your day. I even got some free gifts!"
— Rebecca and Craig Rose
"The car was perfect, as expected, and your driver was so polite and professional. I drive through Gatley every day, so I always have a smile as I see your cars outside, as they remind me of the amazing day I had."
— Kelly and Bob Alderdice
"The wedding car was beautiful and immaculate, and our driver was very smart and friendly, he had everything to hand for last-minute bride emergencies! What more can a girl ask for?"
— Grainne and Carl McIver
"From the moment we booked you to when you dropped us off at our venue, the quality of your service has been above and beyond what we expected. What swung it for us was the quality of your cars and the professionalism of your drivers."
— Michael and Emma
"I hope you can pass on our sincere gratitude to our driver, who was fantastic and made us all laugh the whole day and put us all at ease when we were all a bag of nerves! The day wouldn't have been the same without him."
— Mr and Mrs Mahon
"I had expectations of leaving my house and getting in the car with a complete stranger, but when the time came to leave, I felt like I already knew our driver. He made the effort to come and speak to the bridal party, and I honestly felt like he was part of the family."
— Hannah Cross
"We just want to say the biggest thank you ever to your company for your impeccable service at our wedding. Our driver was simply outstanding, and your service made our wedding day. We could not be happier."

— Charlotte and David
"I have to say that every time we've seen you at a wedding fayre, that you are the nicest people ever. Very helpful and friendly. Easy to see why you've won again."
— Clare Forrester
"May we say a huge thank you to our driver who did a fantastic job of looking after us on our wedding day."
— Laura & Peter Butler
"I love 1930s-style wedding cars. Horgans have a great selection of cars, suitable for a range of tastes."

— Renata
"Love the cars, great service, very smart, cheerful and professional."
— Terry
"Professional service and staff were amazing. My wedding was made extra special. Thank you. I would recommend this company; they were even very helpful and professional with my special needs son."
— Claire Perryman-Smalley
Book Your 1930s Wedding Car

To check our availability or discuss your wedding with us, then please don't hesitate to get in touch with us today, by giving us a call. Our helpful and friendly team are always on hand to help, advise, and answer any of your queries and questions.
If you are looking for 1930s Wedding Car hire contact Cheadle Vintage Cars today. We offer vintage wedding car hire in Cheadle, Stockport, Manchester and Cheshire. It is best not to leave your wedding transport arrangements until the last minute; we take bookings up to 2 years in advance to ensure that our customers can get the perfect car for their perfect day.
Feel free to get in touch if you would like to know more about us or our car service. Contact us by giving us a call or by filling out our contact form. We will be happy to answer any questions or queries that you may have.

Call 0161 491 5087 or use our contact form to send an enquiry.